For many employers, it seems like when it comes to employee benefits, trends are changing and evolving so quickly that it's hard to keep up. Not that long ago, a pension or 401(k), healthcare and a week's vacation were all a new hire could expect. But thanks to a tight labor market, employers are increasingly eager to craft benefits packages that are attractive, flexible and comprehensive enough to recruit qualified employees, meet their needs and entice them to stay put.
Enter the era of unlimited paid time off (PTO), remote working, performance bonuses, legal assistance, eldercare, adoption assistance, gym memberships and more. Sick leave or sick time, for instance, is increasingly disappearing as PTO takes over to cover everything from vacations and days when someone has the flu. And that's just one example. Nearly half of employees report that better benefits are critical to their personal happiness and financial stability. That's not to say that all "older benefits" are gone—some are still useful and necessary—they just need reworking. Below are some benefits that could use a refresh and others to consider that are inspired by a new-world approach to work and life.
Traditional Benefits You Can Upgrade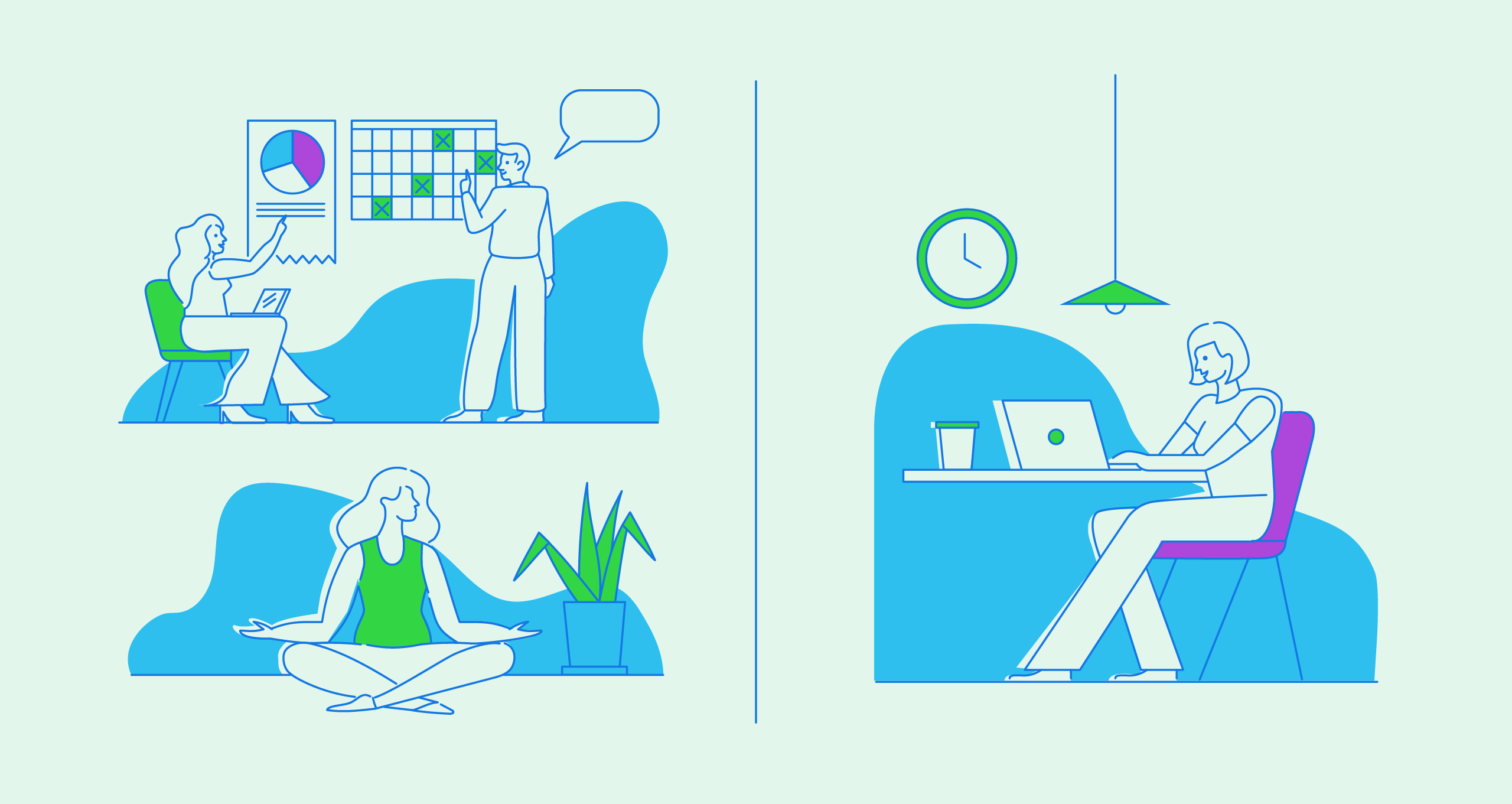 Flexible working arrangements
What used to be Paid Time Off (PTO) has morphed into something much broader under pressure from millennials, who count the flexibility to work anywhere as part of the work-life balance equation. This includes working remotely from the coffee shop down the street, a beach in Bali or a home office. By embracing the concept, employers are meeting the individual needs of their workforce. A 2018 survey from TS Sheets by Quickbooks reveals that more than 53 percent of employees who work from home (or a cafe) report that working remotely improves their productivity. Why? No commute so they can start work earlier, fewer distractions and absences, less stress and more time for a healthy lifestyle. Unlimited PTO is also gaining ground, especially to cover time for new parents, caretakers and personal emergencies. A generous PTO benefit not only scores brownie points for employers, but it also helps boost financial stability for employees who use it.
Financial fitness programs
According to the 2019 MetLife Employee Benefits Trends Study, 52 percent of employees expect to delay retirement because of financial concerns. To address that issue, many employers are now including financial fitness initiatives in their benefits packages. It's not about teaching employees how to decipher their 401(k); these days, financial fitness is about helping employees make smart financial decisions about budgeting, spending and debt management, saving money, even buying a home. A 2018 Workplace Benefits report by Bank of America Merrill Lynch reveals that 95 percent of employers and 91 percent of employees surveyed think that financial fitness as a work benefit is both smart and effective, and 86 percent of employees are likely to sign up for the program if their employer offers it. The bottom line: When workers are less stressed about their finances, they're more likely to be happy, present and engaged.
Well-being and wellness programs
Where once the discounted gym membership was considered a top-notch perk, now people are looking for more encompassing benefits that can include wellness and mental health counseling, health monitoring, physical fitness programs, stress-reducing activities and, of course, the gym membership. The thinking these days is that employers should design benefits offerings with employee well-being in mind. In the long run, it's better for the employee and the company.
Tuition reimbursement
A more traditional benefit geared toward education, tuition reimbursement, also known as tuition assistance, is an especially useful benefit if you want to go back to college for an undergraduate or graduate degree or take some continuing education courses. If the employee meets certain requirements, which differ from company to company, then the employer helps to pay any tuition expenses. According to a 2015 survey, on average, only 2-5 percent of eligible employees use tuition assistance programs, and 43 percent of working adults are unaware if their employer offers such a program. Low use and awareness of these programs, means it could use a revamp like student loan repayment. A new innovative benefit that helps with student loan debt might fit well in your benefits package to attract younger talent.
New and Trending Benefits
Telemedicine
Everyone wants health insurance coverage. But a growing number of workers are driving a new trend away from sick visits and traditional primary care physicians to telemedicine and a more high-tech approach to healthcare. Why? Not only is it convenient, but it drastically reduces the number of pricey trips to the ER and urgent care. According to a recent survey, by 2020 the vast majority of companies that offer group health care plans will also offer telemedicine.
Student loan assistance and repayment
There's probably no financial issue of greater concern for younger employees than paying off their student loans. And it's no wonder. One in four Americans has an average of more than $37,000 in outstanding student loan debt, while the total owed across the U.S. has reached more than $1.5 trillion. Incredibly, only 8% of organizations offer taxable contributions to help employees repay student loans. There is more demand from a workforce struggling with this debt more than ever before. In fact, 86% of employees would work for you for 5 years if you helped them with their student loans. Now might be the time to get ahead of your competition to offer a more meaningful and modern benefit to your workforce.
Pet insurance
Millennials, who now account for 35 percent of pet owners in the U.S., are driving this bus. Not only are they the largest generation in the workplace, but they're also the primary drivers of the pet products and pet care industries. A survey from TD Ameritrade reveals that seven in 10 own a pet, and nearly half are willing to pay an average of about $2,000 for their pet's medical care. In a job market where employers are competing to hire, engage and retain the best talent, offering coverage for Fido or Fluffy could make an offer that much more attractive.
Backup care
Much of caregiving in the U.S. is exhausting, both financially and emotionally—and unpaid. According to AARP, nearly 40 million Americans regularly care for an adult family member; one in four, or 25 percent, of those caregivers are millennials. So it's no surprise that as the country's population ages, elder care or backup care are fast becoming an in-demand benefit. More companies now offer support and backup care services to help caregivers when they need it as well as access to geriatric care managers. Some employers are even allowing employees to use flexible spending account funds for elder care.
Personalized benefits packages
Employers are figuring out that one size doesn't fit all, and different demographics require different benefits. A newlywed in perfect health with no kids has different needs than a middle-aged employee with two kids in college and an older parent who requires 24/7 in-home care. As a result, a growing number of benefits programs are evolving to fall in line with demand as more employers allow employees to choose benefits that serve their current needs. According to the 2018 Employee Benefits Trends Study, 83 percent of employees indicated they would be willing to take a small pay cut in exchange for a greater choice of benefits. What's more, 73 percent of employees said that the option for customized benefits would boost their loyalty to their employer. That makes personalized benefits a powerful tool for attracting — and retaining — potential recruits. Among the nontraditional, personalized benefits gaining in popularity are identity theft protection, pet insurance and paid family leave.
With better, more targeted benefits, employees tend to be more productive, engaged and loyal. Dusting off and updating benefits to reflect 21st-century needs and sensibilities is a great way to show current and potential employees that you're serious about investing in their future.